November 7, 2023
It's Not Who We Expected, But Speaker of the House Mike Johnson is a tremendous win for Conservatives
25 Republicans last month voted against Jim Jordan for Speaker of the House. Despite their efforts to block a more conservative Speaker than Kevin McCarthy, by God's providence, Mike Johnson of Louisiana was elected Speaker, and Speaker Johnson's objectives include delivering some long overdue changes to Congress: restoring regular order.
Mike Johnson wants to return to individual appropriations bills, not the bloated, omnibus Continuing Resolutions Congress has been passing, and to hold Members of Congress accountable to Constituents by having roll call votes on specific, narrow topics  so we the people know where our representatives really stand.
Of course, Johnson and the Republican House will face strong opposition from Schumer's Democrat Senate and Biden, but at least we are going to fight, and we are going to score some points.  This victory is only possible because Republicans won control of the House, and we elected some solid America First new Members of Congress.  We need to swell their ranks with new Members of Congress in 2024, and support the America First Members of Congress being targeted by the Left.
"We are committed to returning to regular order, and that means…12 separate appropriations bills. And I think that people are with us on that," Johnson said…
"The problem with omnibus and minibus spending bills is that it's irresponsible… Too much money is spent, there's often not enough accountability for it. And the American people are not able to adequately follow how their [money] is being spent. And we have to change that," Johnson said.

How many of the Swamp 25 will return to Congress after the 2024 election?
You can read the names of the Swamp 25 Members of Congress who voted to block Jim Jordan below. After the 2022 midterm election, only two of the ten Members of Congress who voted to impeach President Trump were left. The other eight either retired or were defeated. For 2024, the spotlight is on the 25 RINO Republicans who didn't support Jim Jordan – but not at the expense of losing a Republican seat in Congress. Even a RINO Republican Member of Congress casts many votes that slow or block the Democrat agenda, including the vote on the House floor for Speaker of the House. Targeting vulnerable Democrat districts where a MAGA candidate can win the Congressional seat is the top priority. Inevitably, some RINOs will always be with us. Nevertheless, it's encouraging that two of the Swamp 25 have already announced their retirement from Congress at the end of this term:
Ken Buck (CO-04) represents the eastern side of Colorado which is the most Republican district in the state. This open seat presents the possibility of replacing a RINO with a solid conservative.
Kay Granger (TX-12) is a Fort Worth area representative and currently Chairman of the House Appropriations Committee.  Granger announced her retirement one week after Mike Johnson was elected Speaker, and six months after Granger learned she would have a primary challenge from the MAGA movement. The primary race for Granger's seat is shaping up to be another moderate versus MAGA contest in the Republican-favored district.
America First conservative John O'Shea announced in May he was challenging Granger in the Republican primary which probably helps account for Granger choosing not to seek another term. In addition to his support for border security, pro-life, the Second Amendment,  energy independence, and parental rights, O'Shea specifically highlights election integrity as one of his top issues. O'Shea has been endorsed by Texas A.G. Ken Paxton, Hollywood conservative Chuck Woolery, and American Principles Project President Terry Schilling.
O'Shea's opponent in the primary is State Rep. Craig Goldman, whom O'Shea describes as Kay Granger's handpicked successor and who voted in the Texas House to impeach Ken Paxton. The March 5th primary will effectively decide who is the next representative  from Texas CD-12.
DTR PAC is endorsing Joe O'Shea in this race to replace a moderate Republican with an America First Constitutionalist. Look for more information about his race in a future newsletter.

Tuesday, November 7th, is Election Day. Sample ballots are available online at your county's or your state's board of elections website.
Two governorships are at stake, Kentucky and Mississippi, control of the Virginia General Assembly, a seat on the Pennsylvania Supreme Court, and a pro-abortion ballot issue in Ohio: Ballot Issue 1, among other races.
The most important thing you can do is to get out and vote, and get like-minded people to the polls.
In the last year, the Election Integrity movement has really begun to pick up support. A lot more progress must be made, but in the meantime, high voter turnout by legal voters is the key to suppressing fraud.   

From Spectrum News:
Here are the races to watch on Election Day 2023

The spotlight has been on the 2024 election for months as debates and campaign events have taken place across the country. However, 2023 campaigns are winding down toward Nov. 7 with major impacts.
Voters in Kentucky, Mississippi, Ohio, Virginia, and Pennsylvania will all have the opportunity to go to the ballot box to make their voices heard on major issues and political races. From abortion to governor, voters are set to decide the fate of their states for at least the next few years.
Kentucky
Popular Democratc Gov. Andy Beshear is taking on Republican state Attorney General Daniel Cameron.
Cameron is tying himself closely with former President Donald Trump in an effort to gain support from the state's deeply conservative base. Beshear is leaning into economic development and abortion rights as he seeks reelection. Despite being one of the most popular governors in the country, it will still be a challenge for Beshear to hang on to the governorship in a ruby red state. Recent polling shows the race is a dead heat.
Mississippi
Republican incumbent Tate Reeves is vying for a second term in deep red Mississippi. To win reelection, he will have to defeat Democrat Brandon Presley.
The cousin of rock and roll legend Elvis Presley, he looks to pull a big upset in one of the most consistent Republican strongholds in the nation. If Presley wins, he would be the first Democratic governor elected in the state since 1999.
 Virginia
The balance of power is what's at stake in the Commonwealth of Virginia on Election Day.
Democrats hold the state senate and Republicans hold the state house, both by narrow margins. Every single seat is up for grabs. Abortion is set to be a key issue as GOP Gov. Glen Youngkin is throwing his support behind banning the procedure after 15 weeks of pregnancy.
The Virginia races are seen as a potential indicator about what to expect next year nationwide.
Ohio
Voters in Ohio will be voting on abortion directly. A constitutional amendment known as Issue 1 would establish statewide protections for the procedure. The issue has sparked rallies and protests across the state. Voters over the summer overwhelmingly rejected a proposal that would have dramatically raised the threshold for passing amendments to Ohio's constitution, even in staunchly Republican areas, which was seen as a precursor to how the Issue 1 vote could turn out.
Voters will also decide on Issue 2, a referendum to legalize recreational marijuana statewide.
Pennsylvania
An important state Supreme Court race in Pennsylvania where Republicans hope to narrow the current Democratic majority. Liberals hold a 4-2 majority as a seventh seat is up for grabs.
Democrats hope to expand the majority, while Republicans hope to chip away at it to have an opportunity to gain a majority in the future.
"Then conquer we must, when our cause it is just,
And this be our motto: 'In God is our trust.'
And the star-spangled banner in triumph shall wave
O'er the land of the free and the home of the brave."
-Star Spangled Banner 
Share this newsletter with all your like-minded friends and family.
For more information on election integrity please go to: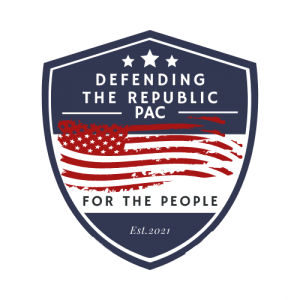 Please Contribute to Defending The Republic PAC so we can Support the Candidates for Office who are Committed to Advancing the Principles of Morality and Freedom which Built our Great Nation.