October 28, 2023
Once again, Republican Party leaders ignore threats to election integrity.
AVR (automatic voter registration) in Pennsylvania will flood the voter rolls with dormant, duplicate, and illegal registrations.

Polls and recent history both indicate that the biggest threat Donald Trump and MAGA candidates face emanates not from voter unpopularity but from election integrity. AVR threatens election integrity by inflating the voter rolls.
Pennsylvania Gov. Josh Shapiro announced last month that Pennsylvania would implement AVR (automatic voter registration — a more aggressive version of motor voter registration where instead of the DMV clerk asking someone if they wish to be registered to vote, the computer automatically registers the person to vote without asking them beforehand.)
It is estimated that, eventually, up to 2 million new voter registrations will be added to the commonwealth's electronic voter rolls. With such swollen voter rolls of unlikely voters, critics fear AVR would enable wholesale election fraud that could tip the scales in the Senate and Congressional races and affect the results in the presidential race.
Unfortunately, most Republican Party leaders are not vociferously opposing the implementation of AVR. They optimistically and naively assume that AVR will benefit Republicans – reasoning that the influx of previously unregistered voters will include many rural hunters and Second Amendment supporters who haven't previously bothered to register, but who will likely vote Republican.
But will they vote? Or, with up to 2 million new voters eventually being added to the Pennsylvania vote rolls, will the opportunities for fraud be multiplied.
By now, Republicans should have filed a lawsuit opposing AVR on legal grounds since, among other objections, AVR facilitates registering individuals who do not have the right to vote including non-citizens and felons.
You can read more about AVR and its legal challenges , but you should remember: AVR will establish a huge database of voter ID numbers on an electronic database. These valid voter ID numbers could effectively serve as a 'line of credit' of extra votes which, if fraudulently cast, would essentially 'stuff the ballot box'.
"A joint statement from members of state Senate Republican leadership said Shapiro's announcement was a "unilateral decision made by the Executive Branch and without input by the General Assembly."
"…State Sen. Cris Dush (R, Jefferson), who chairs the chamber's State Government Committee, called the move tyranny in a Facebook video last week, and said it amounted to "official oppression" because changing the system to opt out made registering compulsory and took away a citizen's right to decline registration."

Mark Houck: Pennsylvania First Congressional District Race
Mark Houck has announced his run for Congress against Congressman Brian Fitzpatrick in Pennsylvania's First Congressional district.
Incumbent Brian Fitzpatrick has the distinction of being one of the most 'moderate' Republicans serving in Congress. Fitzpatrick is a former FBI agent and is one of the 25 Republican Members of Congress who recently voted against Jim Jordan for speaker.
Fitzpatrick now faces a primary from Mark Houck. The pro-life father of 7 is best known for being arrested by gun-toting FBI agents in an early morning raid at his home in the presence of his wife and children. Mark Houck's story is featured in Dinesh D'Souza's new movie Police State, which just came out and is now available to stream online. Watch Police State   
Houck's other priorities include immigration reform (including closing the border to address the opioid crisis), and reining in spending on the war in Ukraine.
Mark Houck begins his campaign with a boost in name ID due to his compelling personal story—having suffered so much at the hands of our increasingly weaponized federal government. It remains to be seen whether Mark Houck can mount a successful challenge to an established and heavily-funded incumbent like Brian Fitzpatrick, but it's well worth supporting Houck's effort since Mark Houck is an authentic MAGA candidate whose values align with the many America First voters in Pennsylvania.
More about Mark Houck's platform.

If elected, Houck expressed his desire to serve on the newly formed Subcommittee on the Weaponization of the Federal Government, chaired by Ohio Republican Rep. Jim Jordan, which investigates "violations of the civil liberties of citizens of the United States."
Houck referred to his campaign's platform, "Restoring Faith, Family, and Freedom," and told CNA that as a congressman he would opposed funding of abortion, defend the right to life, improve infrastructure in the district, support seniors and veterans, and limit illegal immigration on the southern border, which he said is a cause of drugs flowing into the country.

Pennsylvania voters go to the polls on November 7th to fill a vacant seat on the state Supreme Court seat.
In the contest between Carolyn T. Carluccio-R, and Daniel McCaffery-D, Republicans are hoping to pick up the vacant seat and move the court from what has been a 5-2 Democratic majority to 4-3 Democratic advantage.
Both sides are focusing on high voter turnout.
From the Pittsburgh Gazette:
Borick remains hopeful that voters will be more aware this time of the importance of showing up to vote. One motivating factor might be some of the rulings of the Democratic court majority in the past few years that seemed to contradict Pennsylvania state law.
Flush with cash
Outside groups are doing their best to get the votes out for their candidates McCaffery has raised over $2 million from Democratic groups such as labor unions, social justice unions and Planned Parenthood. Carluccio has raised over $3 million, the bulk of it coming from the Commonwealth Partners various political action committees, many of them focused on "school choice.
"Then conquer we must, when our cause it is just,
And this be our motto: 'In God is our trust.'
And the star-spangled banner in triumph shall wave
O'er the land of the free and the home of the brave."
-Star Spangled Banner 
Share this newsletter with all your like-minded friends and family.
For more information on election integrity please go to: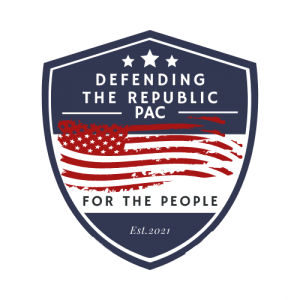 Please Contribute to Defending The Republic PAC so we can Support the Candidates for Office who are Committed to Advancing the Principles of Morality and Freedom which Built our Great Nation.